DJI Zenmuse L2: DJI's new air lidar for drones
DJI presents its new aerial lidar in Intergeo 2023:  Zenmuse L2. ATyges presents you this new Lidar and its main improvements to its predecessor, Zenmuse L1.

Zenmuse L2: Overview
Zenmuse L2 is a highly integrated, cost-performance new generation of airborne high-precision surveying and mapping LiDAR
Highly integrated: frame-type LiDAR, high-precision self-developed inertial navigation, 4/3" CMOS visible light mapping camera and three-axis gimbal and other modules;
End-to-end solution: Paired with DJI Terra, it can become an integrated solution for 3D data acquisition and high-precision post-processing;
Application fields: Can be used in surveying, electric power, forestry, engineering construction and other fields.
Zenmuse L2 is a complete product that integrates different components into the same equipment to maximize their use and functionality. It has a new Lidar sensor, a new high-precision inertial navigation unit (IMU), an upgraded RGB camera and a 3-axis stabilizer compatible with the Matrice 350 RTK and Matrice 300 RTK equipment.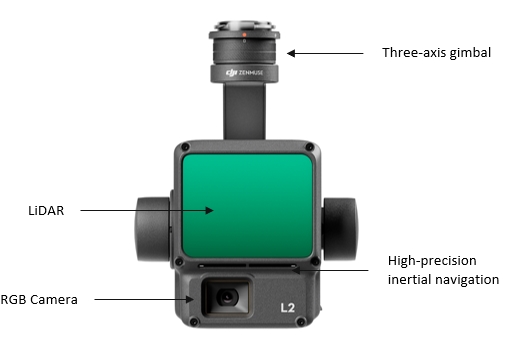 We explain to you analyzing these components what are the improvements to their predecessor, the Zenmuse L1, and why the Zenmuse L2 will continue to revolutionize the Aerial LIDAR market.
LIDAR Module
The high-precision LiDAR module that integrates the Zenmuse L2 is a new DJI development component that introduces an important qualitative leap in data collection.
Frame design
Point cloud effective data rate up to 100%;
Combined with the three-axis stabilized gimbal, it brings more possibilities to surveying and mapping scenarios.
Scanning Method
Supports both repetitive and non- repetitive scanning methods

With repetitive scan method it can perform more uniform and higher-precision scanning to meet the requirements of high-precision surveying and mapping.
With non-repetitive scan method it takes a larger vertical field of view, more structural information can be obtained and the collection efficiency is higher.
More concentrated energy
Laser spot size is 4×12cm@100m;
Only 1/5 of Zenmuse L1.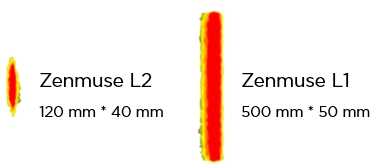 The energy focus is more concentrated, the penetration and point cloud quality are more refined, and the model presentation is better than Zenmuse L1.
Measuring range increased by 30%
250 meters reflectivity 10%, 100 klx;
450 meters reflectivity 50%, 100 klx
250 meters reflectivity 10%, 100 klx; significantly improved compared to Zenmuse L1. The detection range is longer, and the typical operating altitude can reach 150m, making flight operations safer and more efficient
Under the same flight conditions (30 meters height at the top of the tower, flight speed 7m/s), Zenmuse L2 can completely complete the point cloud modeling of 500kV lines, 35kV conductors and 400v conductors across the lower span.
Zenmuse L1 can only fully model the top 500kV line; 220kV transmission line, Zenmuse L2 tower type is clearer;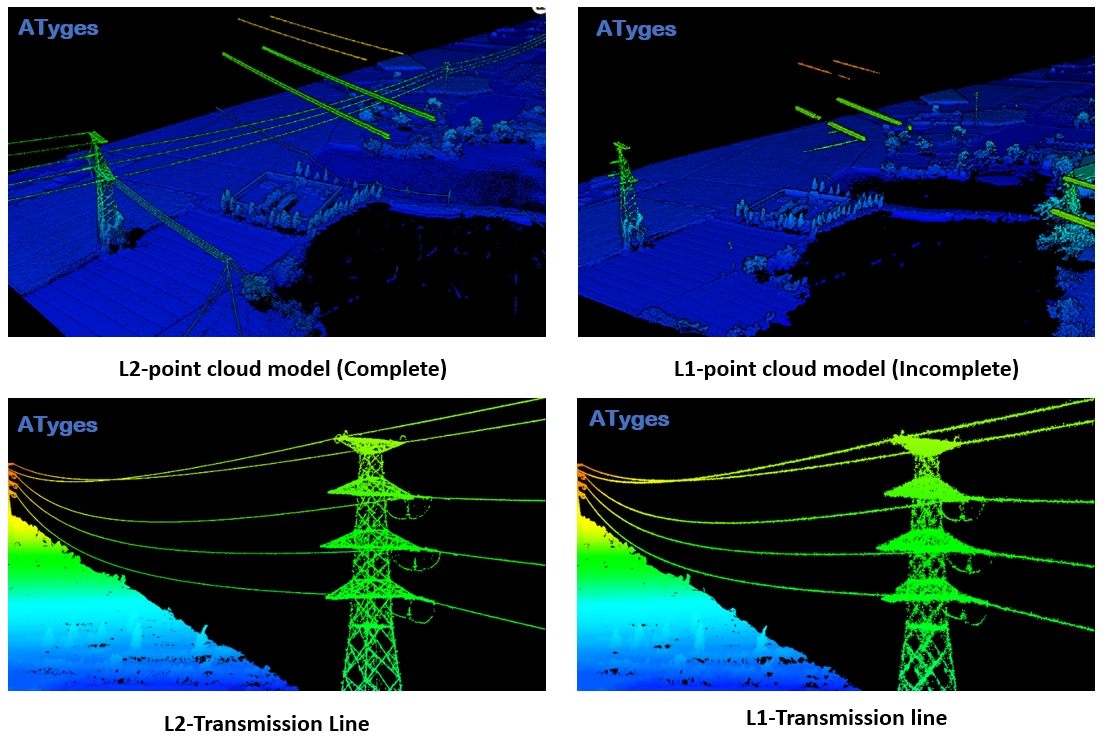 Multiple Returns
Maximum support 5 Returns;
Access to richer understory ground sites.
Point Cloud Data Rate
Zenmuse L2's maximum point cloud emissivity reaches 240,000 pts/s in both single-return and multi-return modes.
Ground Point Density

Under the same environment and flight conditions, route altitude: 80m, flight speed: 10m/s, repetitive scanning mode;
The number of understory points in Zenmuse L2 is greater than that in Zenmuse L1, the density is higher, and the penetration is greatly improved;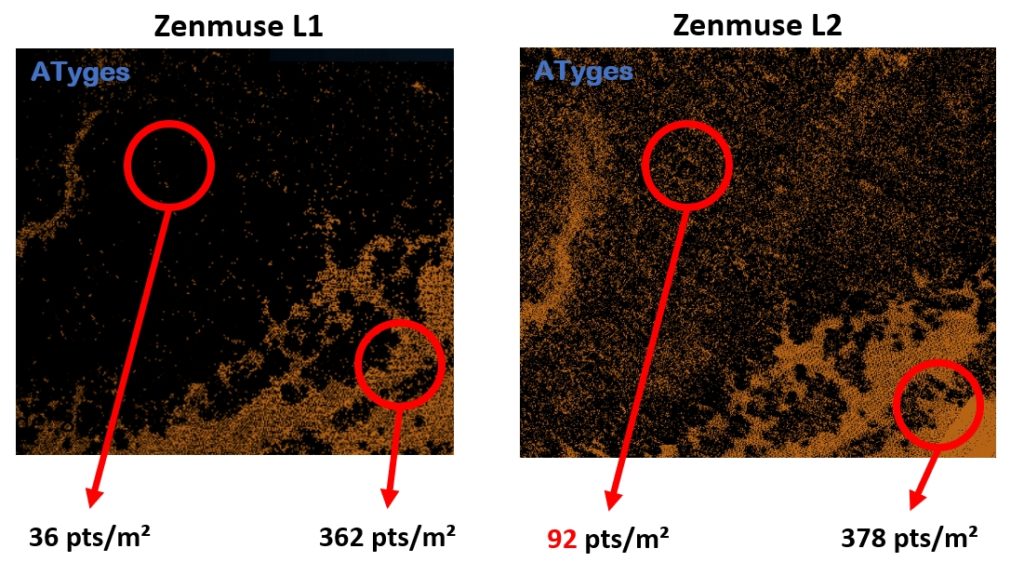 Inertial Navigation System
Zenmuse L2 uses a self-developed high-precision inertial navigation.
IMU greatly improved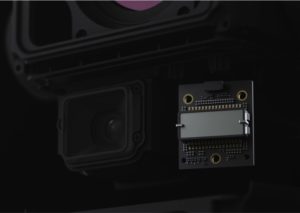 The high-precision IMU can perform data fusion and post-processing with the aircraft RTK positioning system to provide Zenmuse L2 with more accurate absolute position, speed and attitude information.
The enhanced environmental adaptability of the IMU helps Zenmuse L2 collect more reliable high-precision point cloud data.
| | |
| --- | --- |
| Yaw Accuracy | Pitch and roll accuracy |
| Real-time 0.2°, Post-processing 0.05° | Real-time 0.05°, Post-processing 0.025° |
IMU does not require warmup

After starting up, the inertial navigation does not need to be preheated, reducing waiting time in the field;
The aircraft can take off when the RTK is in FIX status, bringing a better field experience.
Mapping camera
The new RGB camera allows you to color the point cloud in a richer way and performs mapped with photogrammetric techniques additionally to the LIDAR on the same flight. The Mavic 3E sensor, now integrated into the Zenmuse L2.
HD wide angle, high-speed continuous shooting

4/3 inch CMOS, 20 million pixels;
Mechanical shutter, 200,000 shutter lifespan;
Supports the shortest photo interval of 0.7 seconds, efficient continuous shooting;
Real-time point cloud coloring;
When there is no need to collect point clouds, visible light mapping is supported.
High efficiency and high precision
Zenmuse L2 is equipped with the M350 aircraft, which supports a maximum flight speed of 15m/s.
When the typical operating altitude is 150m, the model accuracy post-processing can still meet the elevation accuracy of 4 cm and the plane accuracy of 5 cm;
To meet the same accuracy requirement of 1:500, Zenmuse L2 can complete a working area of ​​2.5km² in a single sortie, while Zenmuse L1 can only complete a working area of ​​0.5km² in a single sortie, increasing the efficiency by 5 times.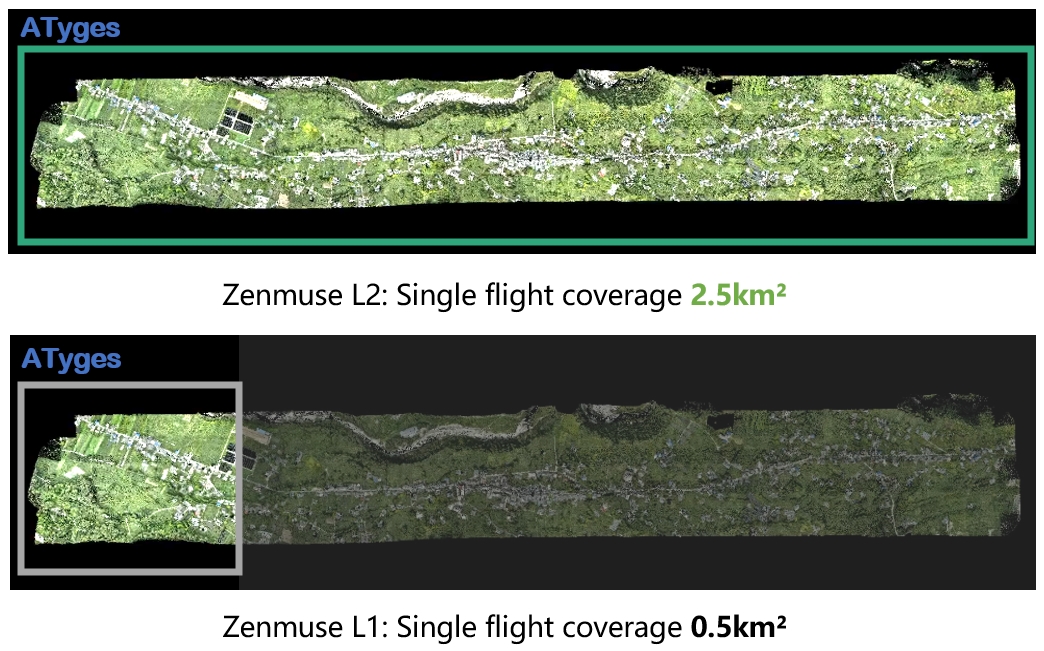 DJI Pilot 2 APP:
Various route types
It supports a variety of route tasks such as waypoints, areas, and linear mission, and is capable of data collection in different environments and scenarios
Point cloud real-time display
During the operation, DJI Pilot 2 supports three real-time display modes: visible light, point cloud, and point cloud/visible light split screen to intuitively display the operation effect;
Different shading modes can be selected, including reflectivity, height, distance and true color.
Laser ranging function
The distance information between the LiDAR module and the object in the center of the screen can be obtained to improve operational safety;
For targets/obstacles in the measurement area, laser marking can be used to locate and record the target position;
The maximum distance of laser ranging is 450m.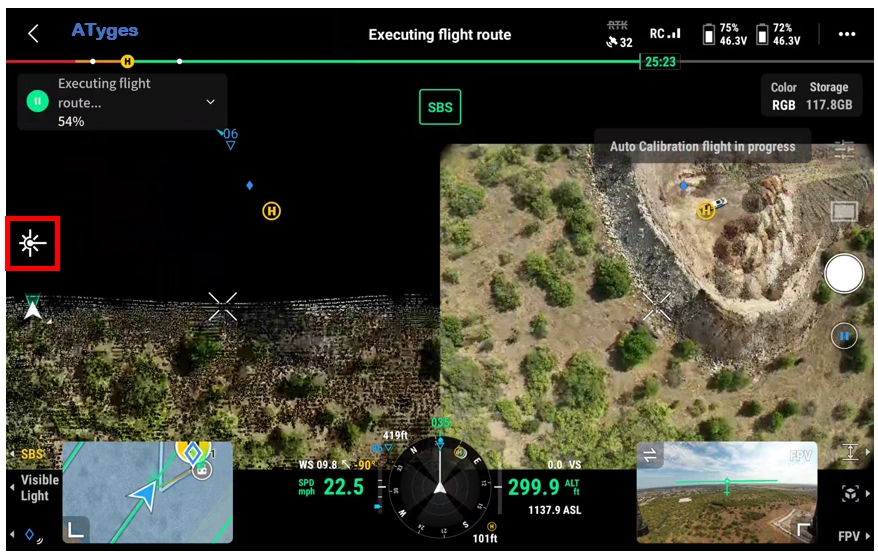 Point cloud preview function
Pilot 2 can quickly preview the currently recorded point cloud 3D model, helping users perceive the work progress in real time;
Support switching model observation perspective and coloring mode;
Supports the stitching of 3D point cloud models from multiple sorties to judge the quality of operations on site.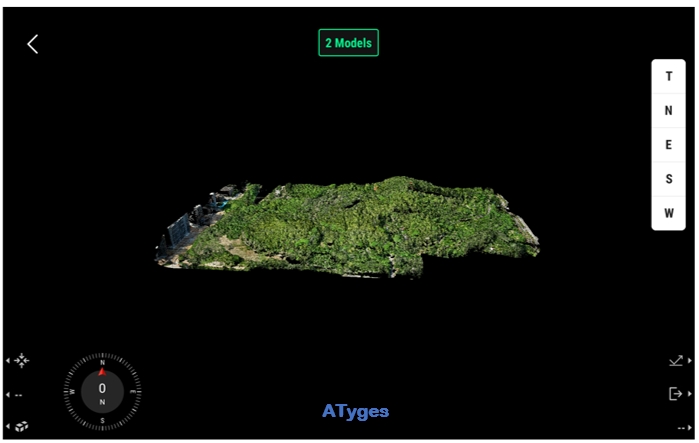 Field Quality Report
After the route task is completed, a route operation quality report is provided, and users can check the quality of this operation and the route segments with poor results on-site;
The report records the valid data duration of each module of LiDAR, camera, and inertial navigation, and routes with poor results can be marked and re-operated based on the quality report.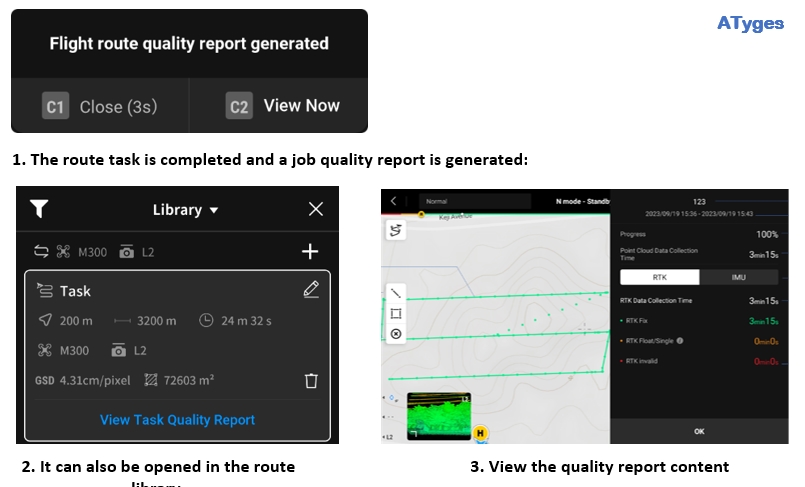 Comparison with an example with Zenmuse L2 vs Zenmuse L1
Here is a work done with the new lidar Zenmuse L2 in a wooded area and how to substantially improve the results and productivity compared to what was obtained with the Zenmuse L1.
Manned aircraft getting 40-50 points/squ meter

2-3 points hitting the ground;

Zenmuse L1 getting 250 points/squ meter

2-5 points hitting the ground;

Zenmuse L2 capturing 600 points/squ meter

40-50 points hitting the ground
If you need more information, at ATyges as official DJI Enterprise distributors, we offer you personalized advice with the help of the best professionals in the sector. Don't hesitate and visit ATyges, engineering specialists and professional drones.
We're waiting for you.