Agricultural self-guided system
The Agricultural Self-Guide System can be installed on any vehicle, performing its work with the centimeter accuracy offered by the GNSS GPS Topographic Reach RS+ equipment, and thanks to the visual guidance software you perform your task with maximum productivity.
Very high-precision solution that helps you optimize the use of agricultural tasks with vehicles such as mowing, planting, application of fertilizers and pesticides, as well as to reduce the cost of machinery and hours of staff work.
Main features:
– GNSS GPS equipment of rugered centimeter accuracy with IP protection.
– Software for android devices that allows you to:
Management of jobs and plots.
Helps you draw straight and parallel lines effortlessly.
View cultivated area and overlaps.
Work with different orientation patterns:
– Straight lines.
– Rodeos.
– Circles.
– Curves.
Speed and distance information traveled.
2D and 3D vision of work.
Night time to work in ortho and sunset.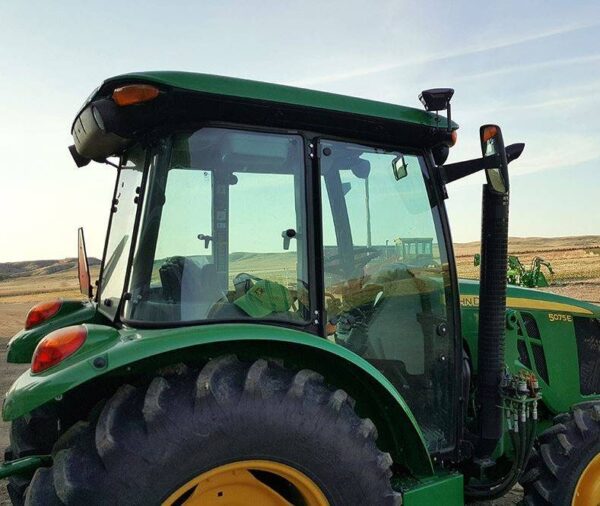 What benefits does self-guided agricultural machinery bring me?
Among the main advantages of the GPS Agricultural Self-Guide System for tractors and agricultural vehicles are the following:
Provides greater accuracy than a Standar GPS or GIS GPS.
It maintains a constant precision,which is not given with other methods thanks to RTK technology that incorporates GPS.
It is a multipurpose system that allows you to perform several tasks:

Phytosanitary and fertilive treatments: the agricultural GPS tells you which areas have already been treated so as not to duplicate or overlap passes, so that the maximum product is saved and achieves a homogeneous application in its field.
Harvest: A self-guided GPS is able to make the harvest much more agile, as it allows you to make passes with the harvester jumping several hands, making perfectly parallel passes, and leaving stripes unmoweed from the exact width of the cut of your harvester. This will save time, diesel and wear on your mowing jobs.
Sowing: Avoid overlapping passes under adverse conditions, for example when you are sowing in autumn and it gets dark early and you don't see whether or not you've already passed through an area of the countryside. A more uniform crop is achieved without wasting a seed.
Row plantings: GPS helps streamline this highly accurate task by telling you the exact location of the plantation thanks to the centimeter accuracy of the GPS it incorporates.
It can be used at night: this way you can take advantage of those overtime hours to advance jobs.
As you can see, there are many reasons why, as a farmer, you should use an Agricultural Self-Guide System using GPS RTK technology.
What does RTK technology bring? Maximum accuracy in your GPS receiver: Watch video