kit survey gps reach rs2
The Reach RS2 GPS Survey Kit consists of a pair of Reach RS2 multifrequency GNSS receivers for Rover/Base configuration.
Configurable interchangeably as Rover and Base teams
With the Reach RS2 GPS Survey Kit get Fixed Solution in seconds
---
Reach RS2 gets a fixed solution in just seconds and maintains solid performance even in difficult conditions. Centimeter accuracy can be achieved in distances of 60 km in RTK and 100 km in PPK mode, in addition thanks to the use of the Rover/Base configuration does not depend on third-party equipment.
PPP support

---
RINEX RAW data supports OPUS, CSRS-PPP, AUSPOS, and other PPP services, so you can now get results with centimeter accuracy anywhere on Earth. Process RINEX files in an online service and get a position with absolute precision.
Built-in 3.5G modem
---
Reach RS2 features a low-power HSPA 3.5G modem with 2G support and global coverage. Corrections can now be accessed or issued through NTRIP independently, without relying on the intertet connection of an external device.
22 hours on 1 single charge
---
Up to 22 hours of self-driving work when recording data and up to 16 hours as a 3G mobile. Even in cold climates, you no longer need to carry replacement batteries. Reach RS2 can be charged from a conventional USB charger or via a PowerBank via USB-C.
Survey with Reach View
---
The easiest software to use for data collection, which is available for both Android and iOS as well as Linux.
With ReachView you can take and rethink points and control all the features of Reach RS2. You can configure the base station, log RINEX data, and configure NMEA output: everything can be done with ReachView.
Export data in multiple formats
DXF, CSV, GeoJSON and ESRI Shapefile
Import data into multiple formats
DXF, CSV and GeoJSON

Register and store RINEX

RINEX 2.X and RINEX 3.X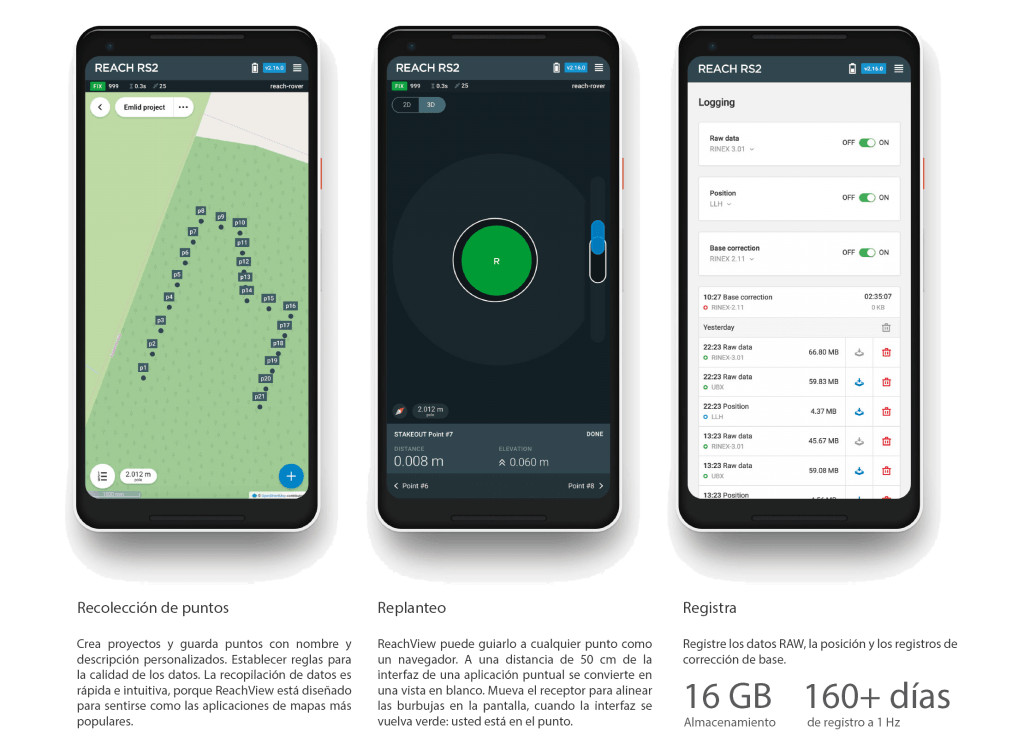 Base Station Mode
---
Use Reach RS2 to configure your own base station and transfer corrections over the network, via NTRIP/TCP or LoRA radio or record base readings for the post-process processor. Reach RS2 works with multiple market rovers and is compatible with Reach RS+, Reach M+ and Reach M2.
It is compatible with other market receivers that support RTCM 3 and NTRIP, plus external radios are compatible via RS-232.
Compatible with third-party professional survey ingapographic applications
---
With the free native Reach View app you can fully control your GPS Reach, but if you want you can use traditional surveying software and not modify your workflow.
GNSS Reach RS2 receivers are compatible with third-party professional surveying applications such as TCP-GPS,TopView, Carlson SurvCE/SurvPC, QGIS, Magnet Fields, etc. If you already have those software with your topographic GPS, take advantage of your investment and your current workflow.
Real-time navigation

---
Reach RS2 can send precise coordinates via Bluetooth or Wi-Fi, plus the RS-232 interface allows you to connect Reach RS2 directly to an autosteer system.
Supported apps
MachineryGuide, AgriBus-Navi, Efarer, Agripilot.
TCP-GPS, Top-View, QGIS, Magnet Fields.
Solution format
NMEA, ERB, plain text
Online support

---
Ask us any questions about this device via our email and visit the official EMLID forum and product support community.