MAVIC 2 PRO + KIT FLIES MORE

DJI Mavic 2 Pro + Kit Vuela Mas is a package that includes the DJI Mavic 2 Pro and the Fly Mas accessory kit for Mavic 2 Pro to improve the user experience thanks to the extra accessories included in this kit.
Mavic 2 Pro Drone

KIT FLIES MORE FOR MAVIC 2 PRO
The kit flies more for the Mavic 2 Pro contains the following items: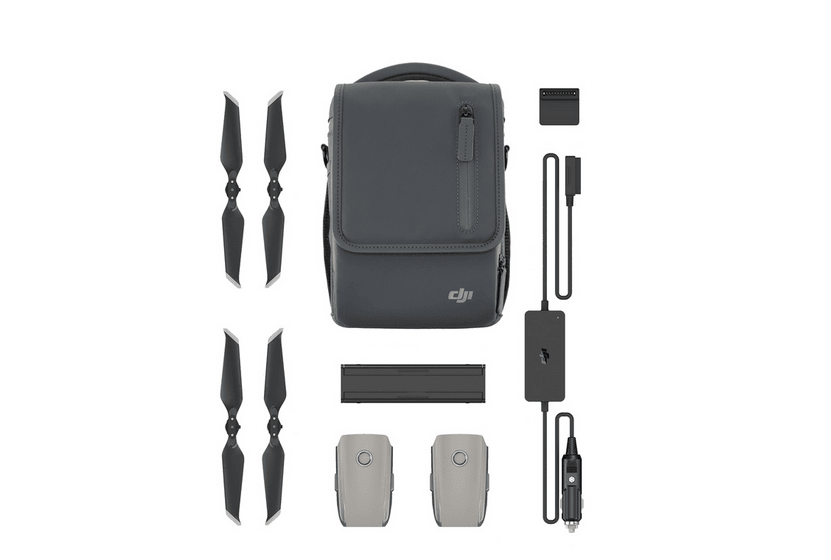 The Mavic 2 Fly More Kit includes:
two Smart Flight Batteries,
a charger for the Mavic 2 car,
a battery charging port,
a battery adapter for external battery,
silent propellers and
a Mavic 2 shoulder bag.
Each of the two Intelligent Flight Batteries has a capacity of up to 59.29 Wh and provides a maximum time. 31-minute flight. With an integrated DJI Smart Battery Management System, it is possible to monitor the battery status in real time. So you can worry less about cargo levels and focus on enjoying an epic flight.
The Mavic 2 car charger allows you to charge batteries while driving. It has a maximum output power of 80 W and has low voltage protection that ensures that the car does not discharge until it can't start.
The battery charging port is an efficiency improvement when charging the batteries in the order of their current charge level, giving priority to the most charged batteries. Thanks to the foldable design of the battery charging port, you can take it with you wherever you go. You can use up to four charging slots when using it with the car charger or battery charger.
The external battery-to-battery adapter converts your Smart Flight Batteries into high-capacity external batteries. All external battery-powered adapters have two USB Type-A ports, which offer a dual output of 10 W with which you can charge your phone using only 20% of a battery.
The Kit also includes two pairs of silent propellers. These state-of-the-art propellers have an aerodynamic design for quieter flight, greater efficiency and longer flight time.
The versatile Mavic 2 shoulder strap is specially designed for the Mavic 2. It can carry an aircraft, a remote control, four Smart Flight Batteries, a phone, additional propellers, ND filters, cables, microSD cards and many other accessories.
DJI Mavic 2 Pro integrates the new Hasselblad camera
Manufactured in Sweden, the Hasselblad cameras are known for their ergonomic design, their determined commitment to image quality and the quality of Swedish craftsmanship.
The Hasselblad cameras were born in 1941 and have captured some of the most iconic moments of the last century – including the arrival of man on the Moon.
As a result of the collaboration with Hasselblad and two years of relentless research, the DJI Mavic 2 Pro is equipped with the new Hasselblad L1D-20c camera. The L1D-20c uses Hasselblad's HNCS (Hasselblad Natural Colour Solution) technology to capture stunning 20-megapixel aerial images with incredibly detailed color.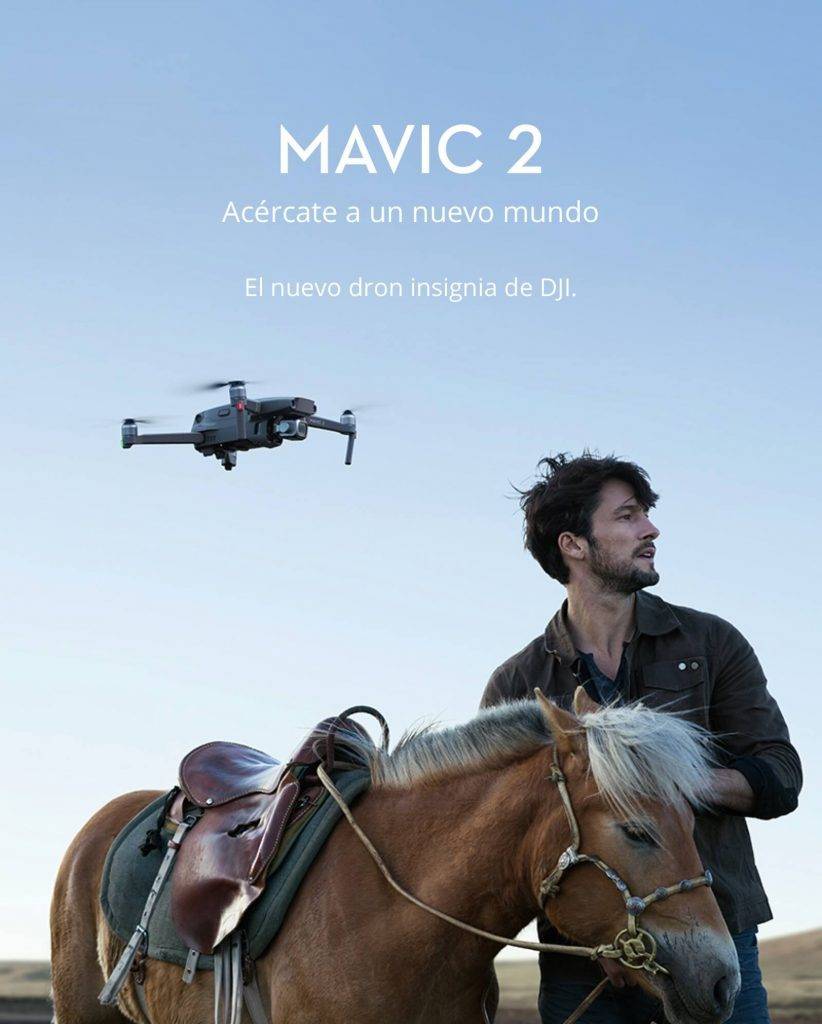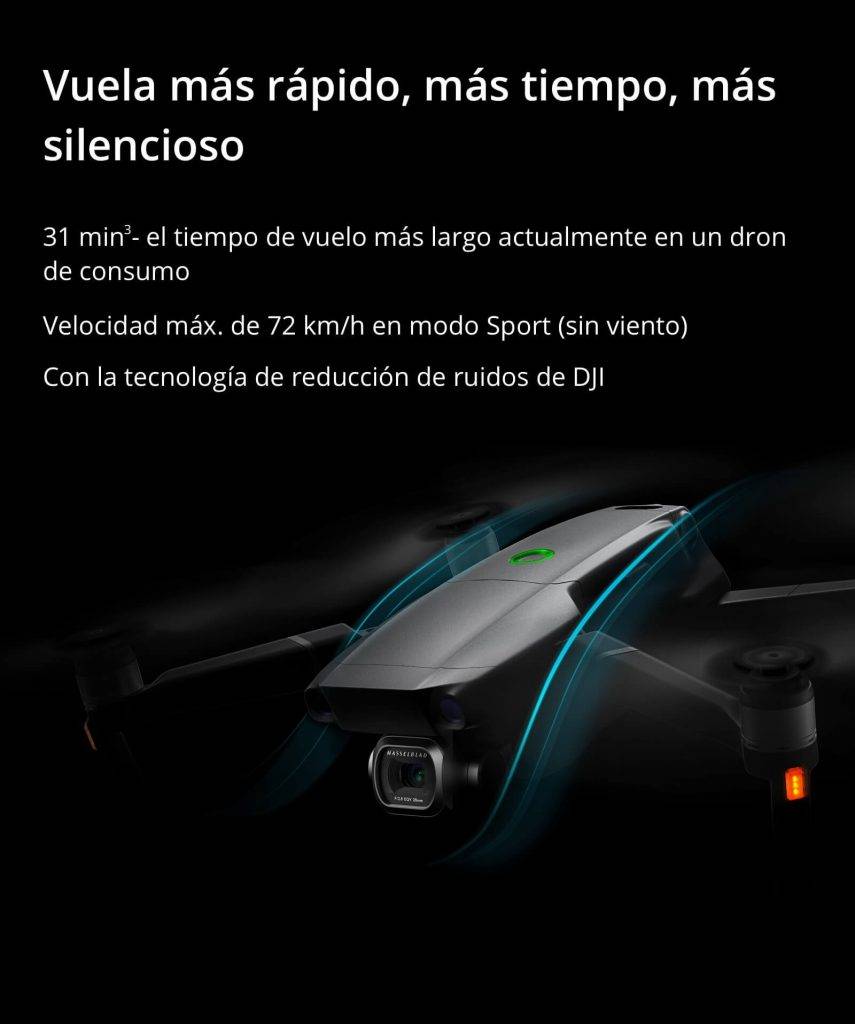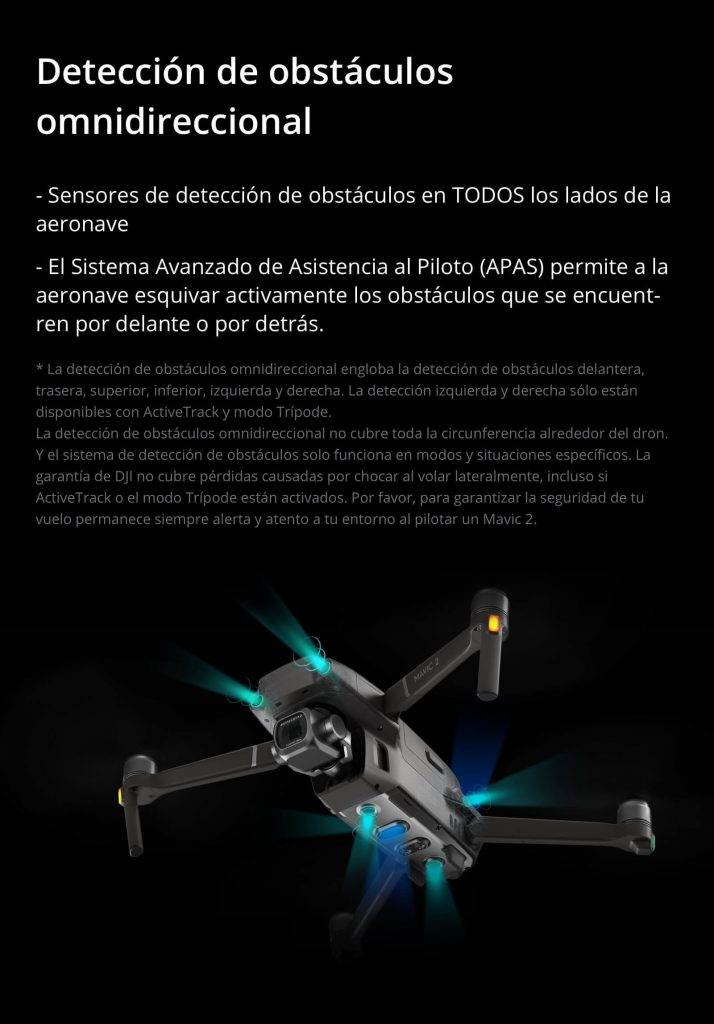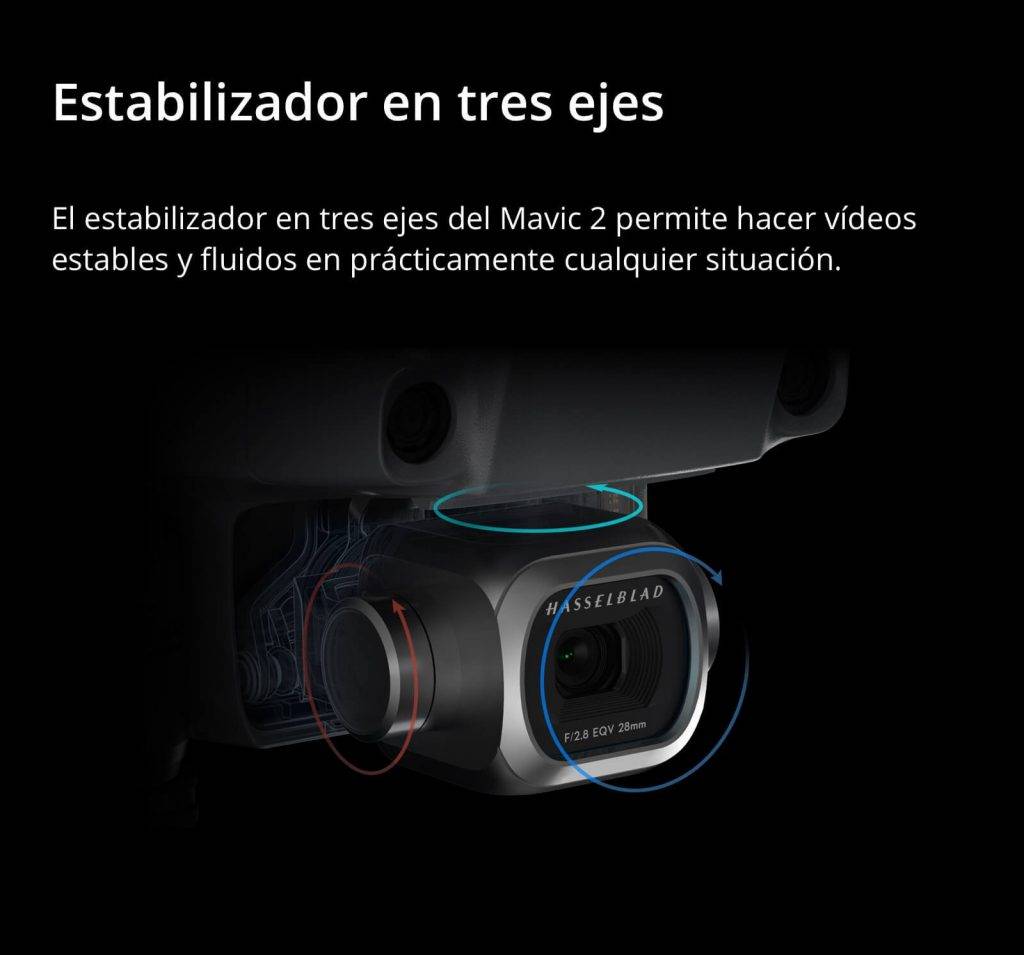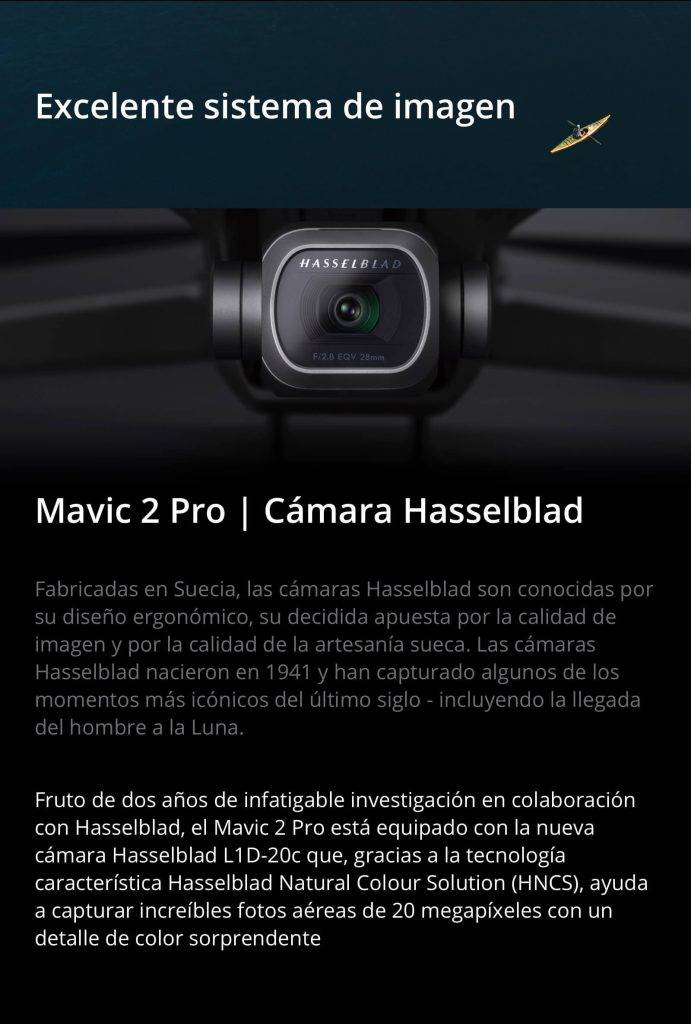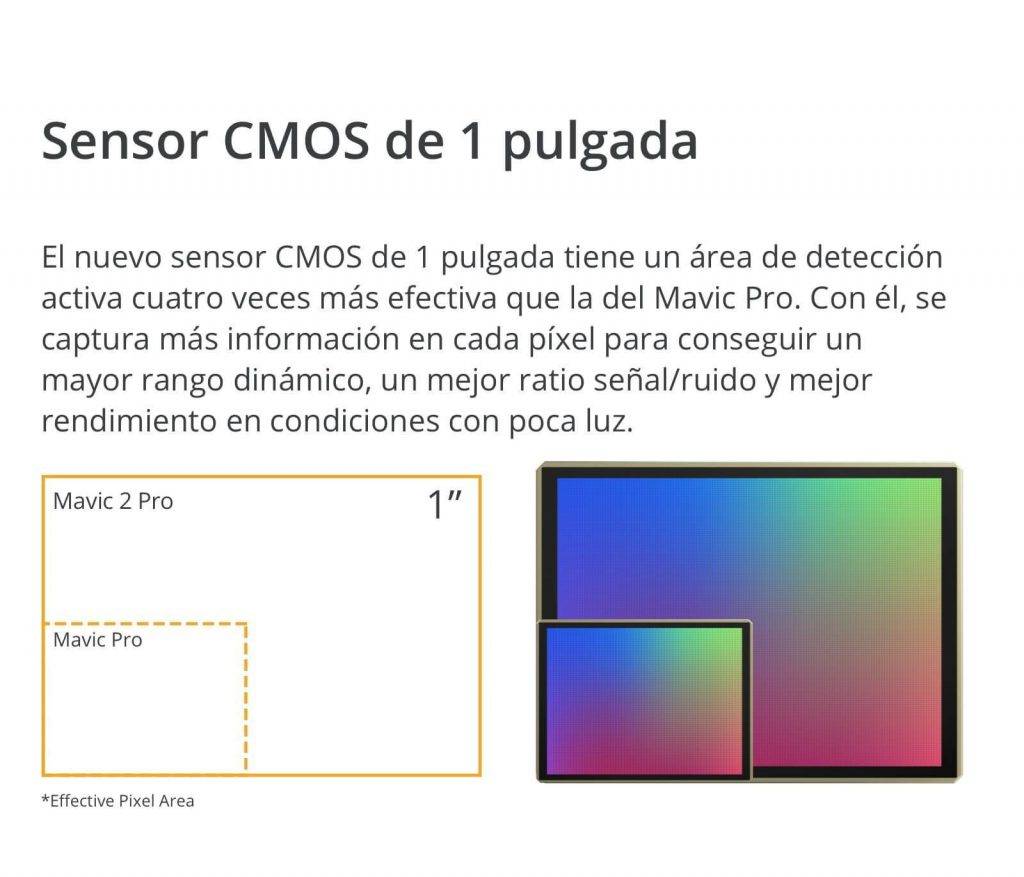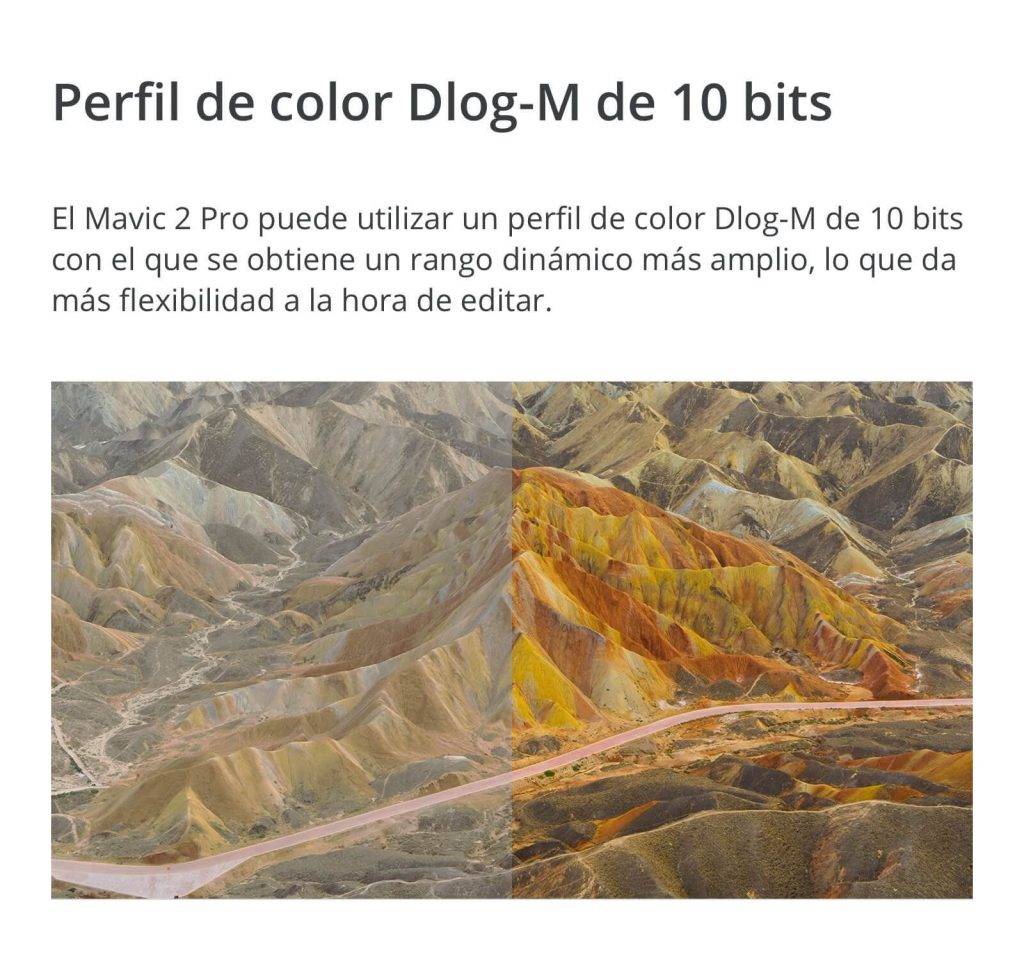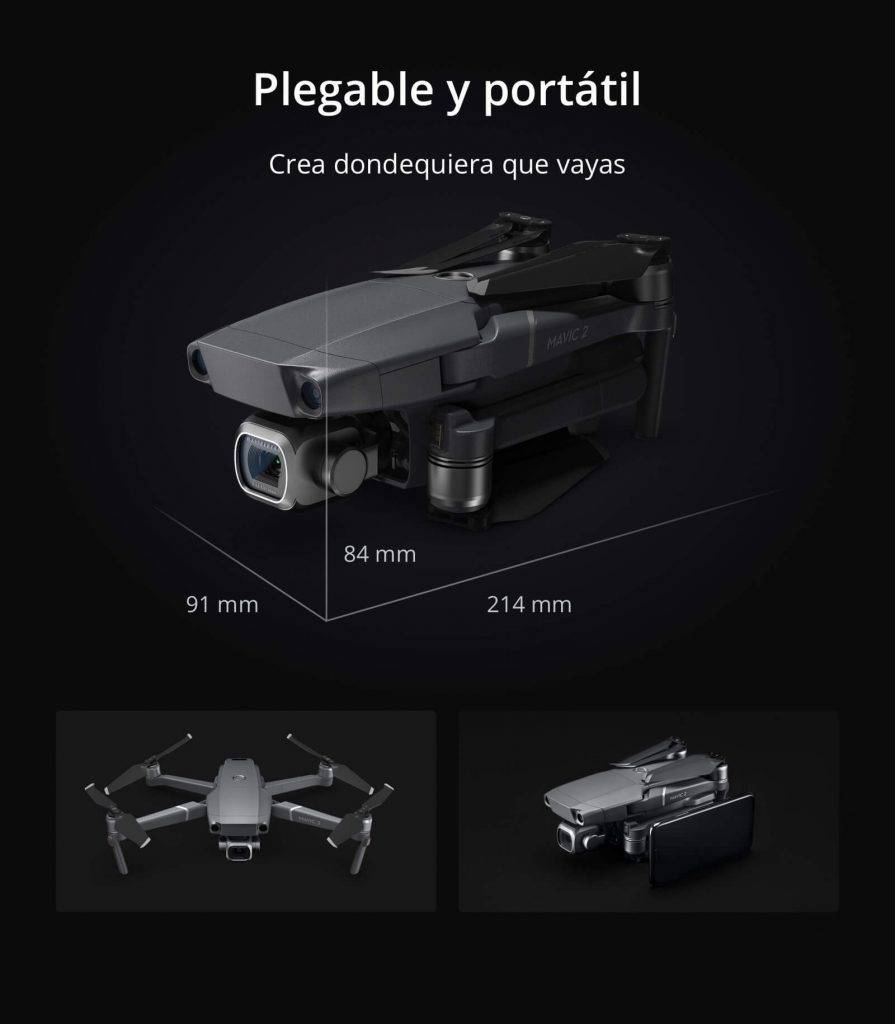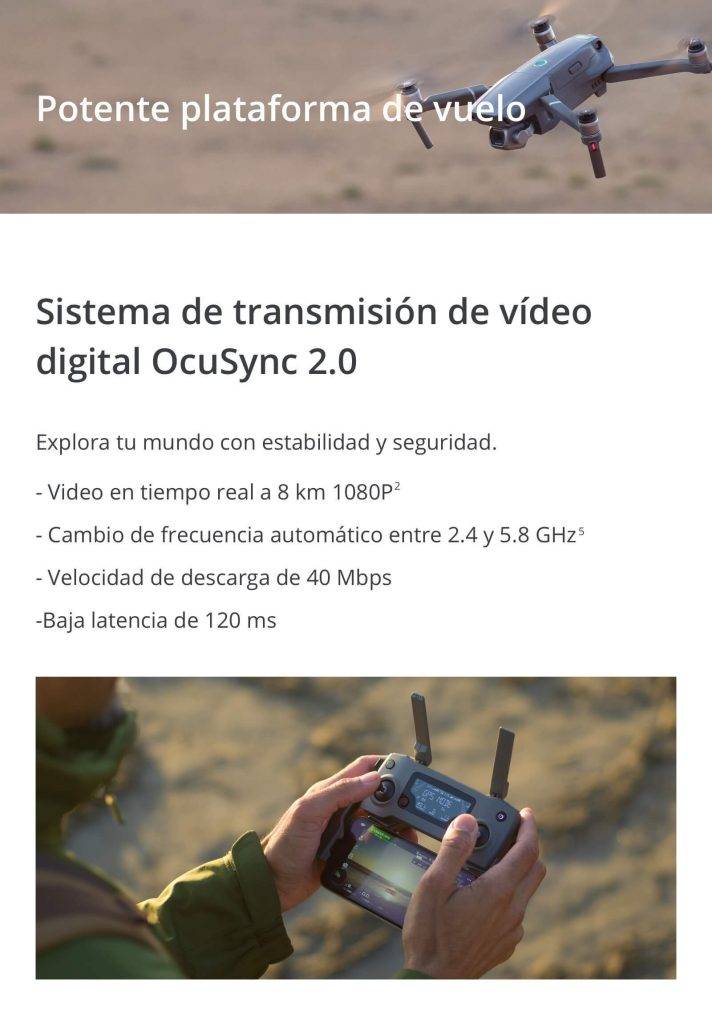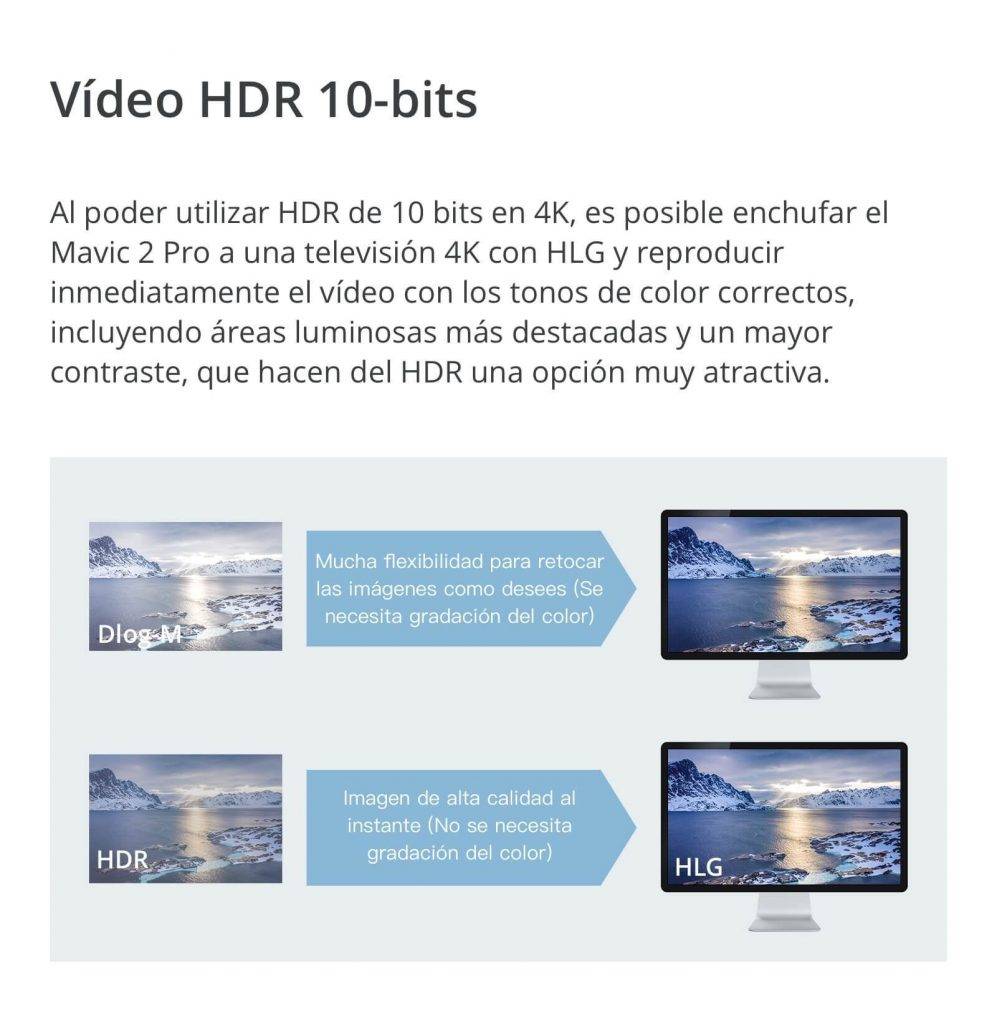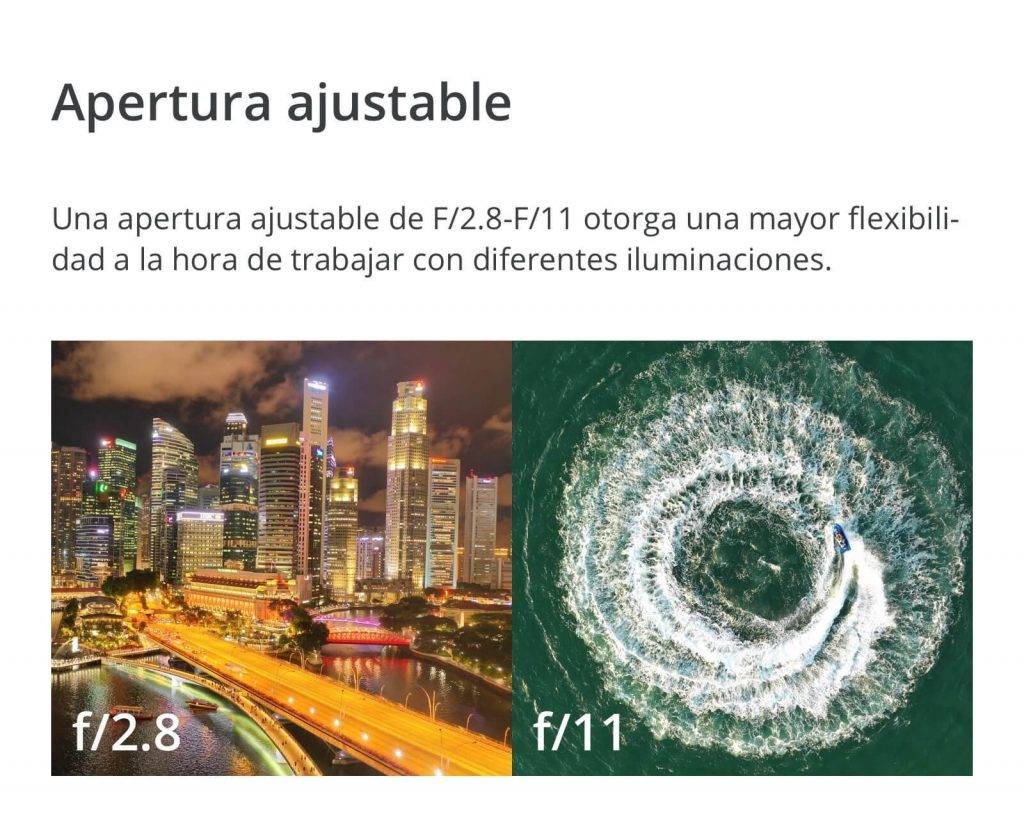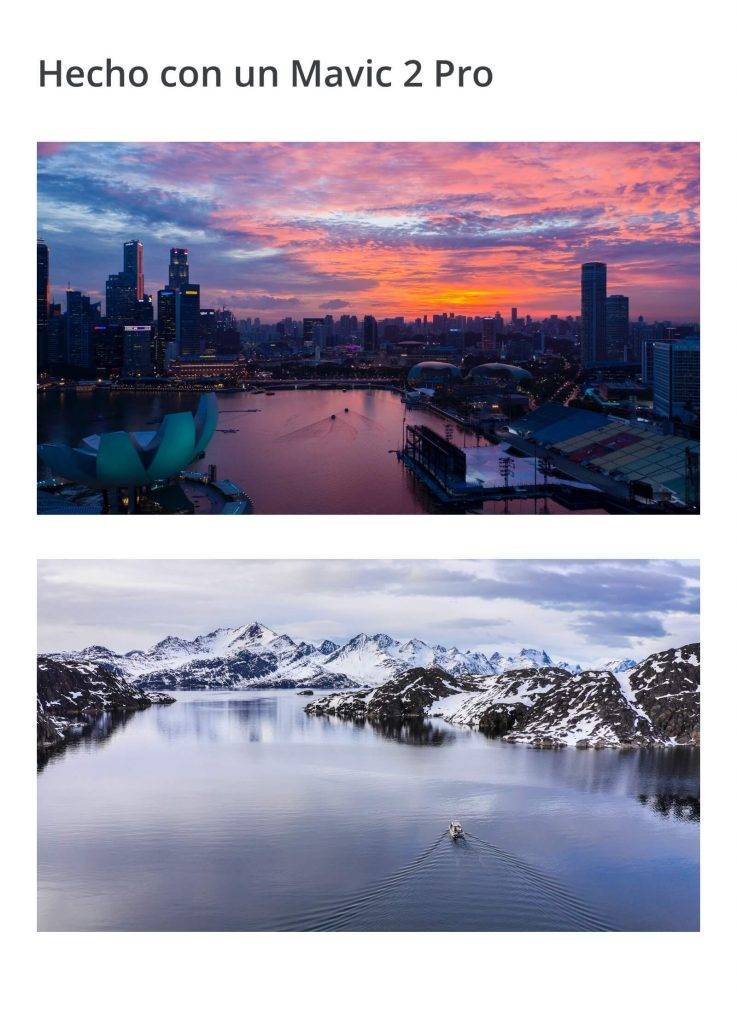 1-inch CMOS sensor
The new 1-inch CMOS sensor has an active detection area four times more effective than that of the original Mavic Pro sensor. This large sensor also offers better performance in low-light environments with a wider ISO range, increasing the maximum ISO from 3200 to 12 800.

10-bit Dlog-M color profile
The Mavic 2 Pro can use a 10-bit Dlog-M color profile that provides a wider dynamic range, giving you more flexibility when editing.
The system records up to one billion colors (compared to 16 million colors in 8-bit color coding technologies) and retains a higher level of detail in both bright and dark areas.
Now you can capture the subtlest gradients of a sunset or sunrise, leaving more freedom during post-production.
HDR Video
By being able to use 10-bit HDR in 4K, it is possible to connect the Mavic 2 Pro to a 4K TV with HLG and immediately play the video with the correct color tones, including more prominent light areas and higher contrast, which make HDR a very stunning option To.
Adjustable opening
The adjustable aperture of f/2.8-f/11 results in stunning image quality in both high-light environments and low-light environments.
When recording in low light, you can set the aperture to f/2.8 to allow more light to enter and take clear, well-lit photos.
When recording in high light, you can set the aperture to f/11 to slow down shutter speed and make your videos more fluid.