PROMOTIONS AND OFFERS
Discounts on multiple DJI, EMLID and Pix4D products
We offer all kinds of technical solutions for companies and individuals. We advise you and inform you of everything.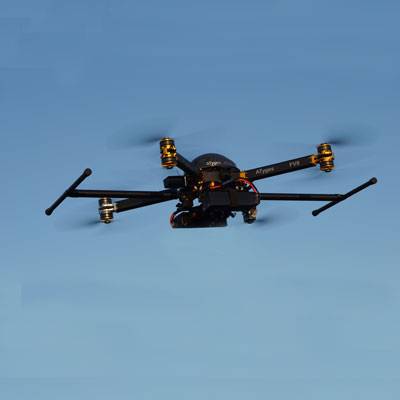 ATyges FV8 and Topodron RTK-PPK / Thermodron / Agrodron Systems

Secure payment

Shipping in 24/48 h.

Technical advice
Professional equipment with electronics and flight control fully developed and manufactured in Europe under strict quality controls. It has redundant security systems that ensure the success and durability of the RPAS platform. The aircraft is made entirely of high quality materials: carbon fiber, aeronauritic aluminum and titanium, which gives the pair lightness and a high mechanical performance that influence the durability of the system.
This equipment is suitable for industrial inspections, multi-spectrum aerophotogrammetry (for professional aerial surveying and precision agriculture). Thanks to its load capacity it can carry multiple visible spectrum image sensors, infrared and multispectrum, as well as other custom payment loads. Different types of gyrostabilized benches can be used, with two and three degrees of freedom and with brushless motorization or with digital servo motors.
It is the foundation platform of our successful systems implemented in more than ten countries:
These systems perfectly combine the robustness of the equipment with the sensors and treatment software that accompany them making leading systems and that cover all the needs of our customers.
The equipment allows the realization of automatic flights stored on the aircraft and hot delivery without the need for an external PC or tablet in the field.
This platform has certified its safety and flight perfomances at the Unmanned Aircraft Experimetal Flight Testing Center by the Aerospace Technology Center and its Avionics and Unmanned Systems department.
The equipment can be supplied with dual GPS system with electronic surface filter that guarantees a superior quality in the reception of satellite signal allowing to capture 50% more signal than a traditional GPS antenna system and with positioning system L1,L2 bifrequency with RTK module for optimal and accurate field data collection.
Easily foldable and transportable equipment without the need for external tools.
Recommended for:
Long distances
Top charge
Demanding atomospheric conditions
Professional RPAS of maximum performance in coaxial octocopter format.