PROMOTIONS AND OFFERS
Discounts on multiple DJI, EMLID and Pix4D products
We offer all kinds of technical solutions for companies and individuals. We advise you and inform you of everything.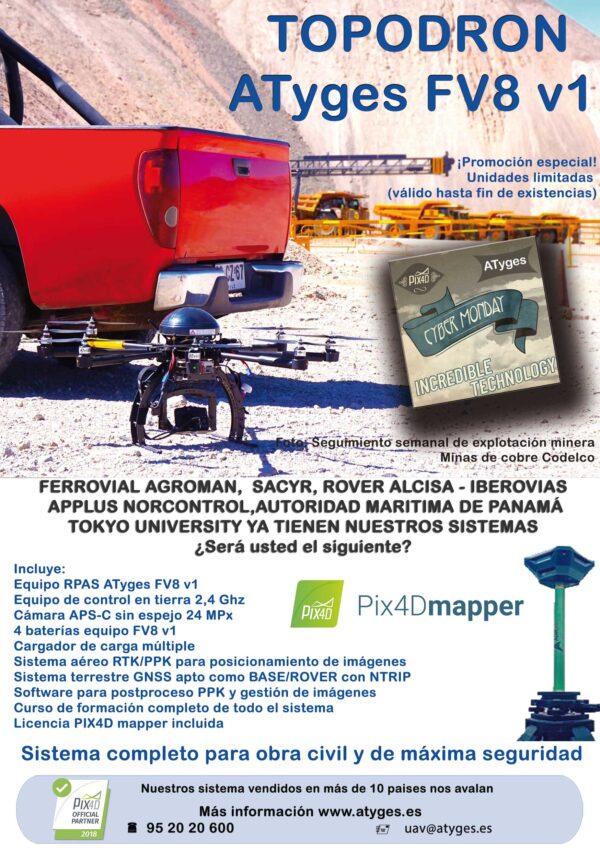 Secure payment

Shipping in 24/48h

Technical advice
ATyges FV8 V1 + RTK/PPK + GPS (Rover/Base) + PIX4Dmapper
9.995,00€ price without VAT
PROFESSIONAL PACKAGE FOR TOPOGRAFIA WITH DRON
SPECIAL PROMOTION WEB SUMMER
SPECIAL LIMITED UNITS OFFER!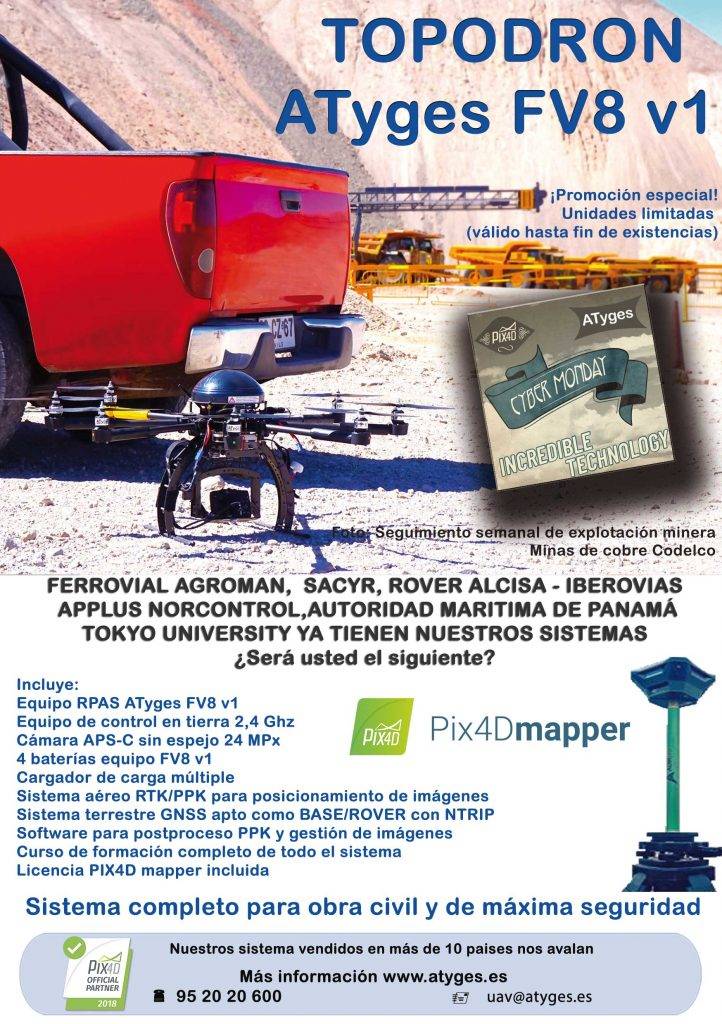 Includes:
RPAS ATyges FV8 v1 team
Ground control equipment 2.4 GHz
24 MPx Mirrorless APS-C Camera (Global Shutter)
4 batteries LiPo equipment FV8 v1
Multi-charge charger
RTK/PPK L1 system boarded by drone for capture of captured imaging orthocenters.
GNSS GPS/GLONASS, GALILEO, SBAS system configurable as base/rover for sending corrections in real time to the drone and suitable for field data collection (checkpoints, classic surveying, rethinking, etc.). Compatible with NTRIP fixes.
ATygeo software for post-processing data (PPK), management of images captured in RTK and incorporation of positioning data into EXIF.
PIX4D mapper license.
Complete training course of the whole system.
Professional equipment with electronics and flight control fully developed and manufactured in Europe under strict quality controls. It has redundant security systems that ensure the success and durability of the RPAS platform. The aircraft is made entirely of high quality materials: carbon fiber and titanium, which gives the pair lightness and high mechanical performance that influence the durability of the system.
This equipment is suitable for industrial inspections, multi-spectrum aerophotogrammetry (for professional aerial surveying and precision agriculture). Thanks to its load capacity it can carry multiple visible spectrum image sensors, infrared and multispectrum, as well as other custom payment loads. Different types of gyrostabilized benches can be used, with two and three degrees of freedom and with brushless motorization or with digital servo motors.
It allows the realization of automatic flights stored on the aircraft and hot shipping without the need for external PC or tablet in the field.
The equipment is supplied with dual GPS system with electronic surface filter that guarantees a superior quality in the reception of satellite signal allowing to capture 50% more signal than a traditional GPS antenna system.
Easily foldable and transportable equipment without the need for external tools.
If you want to add other thermal or multispectral cameras on the same equipment, do not hesitate to contact us. The equipment is 100% compatible with other uses.
Excellent software for processing drone images, excellent communication, nice people! Thank you so much. Highly recommend their software!
Great team with experienced professionals. I experienced quick response from the technical support team eventhough I was not their customer. Thank you Fede A and your team.
Esteban Laffitte
2021-12-19
Gran equipo de profesionales, siempre dispuestos a aclarar cualquier duda tanto en la pre como en la post-venta. Enhorabuena por el servicio qué ofreceis y la calidad de los productos que vendeis.
JOSÉ ANTONIO MARTÍNEZ SÁNCHEZ
2021-12-17
He colaborado con ellos, son muy profesionales y muy recomendables.
Jose Maria Marin Poley
2021-09-23
Hasta ahora todo correcto y rápido.
La atención al cliente ha sido excelente. Envío a Canarias sin complicación. Recomendado.
Professional RPAS of maximum performance in octocopter format.