PROMOTIONS AND OFFERS
Discounts on multiple DJI, EMLID and Pix4D products
We offer all kinds of technical solutions for companies and individuals. We advise you and inform you of everything.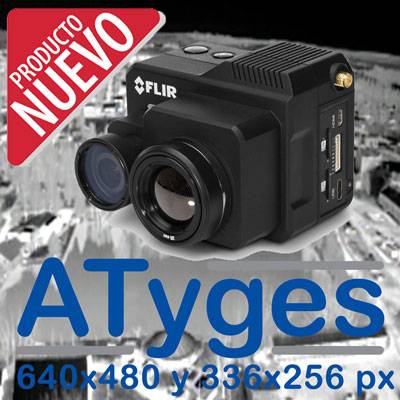 Secure payment

Shipping in 24/48 h.

Technical advice
FLIR DUO PRO (radiometric + 4K)
The new FLIR Duo Pro R combines a high-solution radiometric thermograph with 4K color camera and a full set of built-in sensors to provide you with the world's most powerful dual sensor imaging solution. Capture functional data at any time of the day or night with Duo Pro R.
High-end imaging for drones
With two video output options, analog or digital by micro-HDMI, pilots can switch between thermal and color flight imagers or view both in picture-in-picture mode, and select images combined with MSX®, all while recording video and takes still images on the two microSD cards.
Easy to set up and integrate
Simple Bluetooth setup with the FLIR UAS app for iOS and Android allows pilots to easily set up the Duo Pro R before takeoff. Define color palettes and image optimization features, configure PWM inputs and mavlink interface, and start recording, all without having to carry a computer in the field.
Integrated image geotagging sensor set
Its integrated sensor assembly turns the Duo Pro R into an independent aerial cartographic package. Fully integrated elements (GPS receiver, IMU, magnetometer and barometer) provide all the data needed to create precise orthomosaics from an aerial platform without integrating into external flight controllers.
Main applications:
– Inspection of power lines and substations.
– Precision agriculture.
– Inspection of roofs.
Different 13 mm and 19 mm optics are available. 25 mm consult
You can choose the optics by indicating a note in your order in this regard. If you do not specify otherwise it is supplied with 13 mm optics.
Esteban Laffitte
19/12/2021
Gran equipo de profesionales, siempre dispuestos a aclarar cualquier duda tanto en la pre como en la post-venta. Enhorabuena por el servicio qué ofreceis y la calidad de los productos que vendeis.
JOSÉ ANTONIO MARTÍNEZ SÁNCHEZ
17/12/2021
He colaborado con ellos, son muy profesionales y muy recomendables.
Jose Maria Marin Poley
23/09/2021
Hasta ahora todo correcto y rápido.
La atención al cliente ha sido excelente. Envío a Canarias sin complicación. Recomendado.
Vicente Botella
29/03/2021
Servicio profesional y muy recomendado. Volveré a comprar cuando precise actualizar los equipos.
New FLIR DUO PRO miniaturized sensor for obtaining thermal imaging with radiometry and RGB image from the RPAS.
Additional information
| | |
| --- | --- |
| Resolución | 640×512, 336×256 |
| Lente | Lens 32o (19 mm), Lens 45o (13 mm), 17o Lens (19mm), Lens 25o (13 mm), Lens 35 (9 mm), Lens 25o (25 mm) |
| Frecuencia | 9Hz, 30 Hz |