Agras T16
Unmatched performance and power

The structure of the Agras T16 has several improvements, such as a modular design and the ability to withstand a higher maximum load weight, as well as reaching a spray diameter greater than any other DJI agricultural drone.
The T16 uses its powerful hardware, AI engine, and 3D mission planning capability for unprecedented operational efficiency.
Agras T16 – Main Features
16 L of product tank.
Central module with IP67 protection.
RTK positioning with centimeter accuracy.
Beam shaping radar to avoid obstacles and safer navigation.
Wide-angle FPV camera.
A completely new structure that brings greater reliability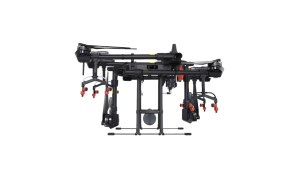 The T16's new modular design simplifies assembly and speeds up routine maintenance. The main parts of the drone are protected at an IP67 level. Its aerostructure is lightweight but resistant and is made from carbon fibers. It can be folded quickly to reach the 25 of its original size and facilitate transport. Both the battery and the tank can be changed quickly to increase the efficiency of the power supply and the liquid to be sprayed.
Increased load capacity and more efficiency
The T16's high flight performance allows you to add a 16 L tank and get a spray diameter of up to 6.5 m. The spray system has 4 pumps and 8 sprinklers with a maximum spray speed of 4.8 L/min. The T16 can spray 10 hectares (24.7 acres) [1]per hour. The spray system also has a new electromagnetic flow meter that is more accurate and stable than the common flow meters.
A powerful and secure system
The T16's new modular electronic system has IMU and dual barometers; its propulsion system is also designed with redundancies to ensure flight safety. The GNSS+RTK dual redundancy system enables centimeter-level accuracy. In addition, its dual antenna technology achieves a high resistance against electromagnetic interference.
Improved radar. Easy handling
The T16's improved radar system can detect its environment day and night, without being affected by light or dust. To improve flight safety, a front and rear anti-collision system and a 100o horizontal field of view have been added, twice that of previous DJI agricultural drones. It can also detect the angle of a slope and adjust the flight appropriately even in mountainous terrain. This innovative radar system uses beam shaping (DBF) technology, capable of using three-dimensional point clouds to effectively detect your environment and avoid obstacles.
A mode for every need
The Agras T16 has different modes to meet the needs associated with working on flat terrain, in mountains or fruit orchards. A single T16 remote control can control up to five T16 aircraft at the same time, doubling the operational efficiency of a single pilot.
Mountain Mode
Its incredible propulsion system and slope detection capability make working in mountainous terrain very easy.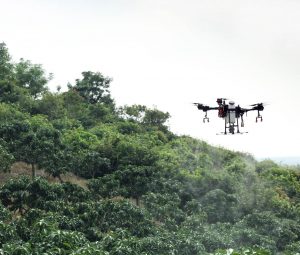 Fruit Orchard Mode
Use the T16 with DJI Terra to generate a 3D model of the work area and to identify fruit trees through Artificial Intelligence. Then plan the 3D mission taking into account the layout and height of the trees.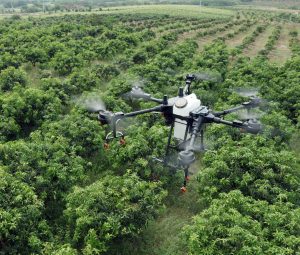 Flat Terrain Mode
Manual modes, A-B path and path available to cover most operational needs.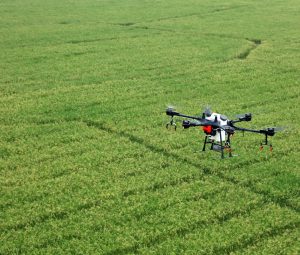 Comprehensive solution. Intelligent operation
DJI Agriculture is committed to increasing the efficiency and intelligence of the crop protection workflow. DJI's agriculture solution uses drones and powerful tools that make it much easier to work with and increase efficiency.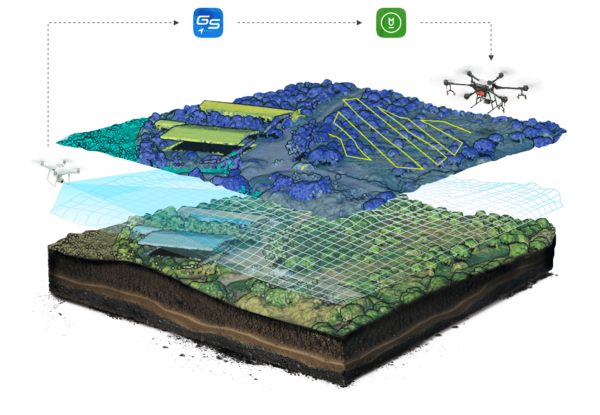 1. Phantom 4 RTK
Centimeter precision positioning.
High-precision information collection
Collecting 247-acre images in 25 minutes [3]
2. DJI Terra
Real-time mapping
2D/3D modeling
AI-assisted operations planning
3 . DJI's Agricultural Management Platform
Data management
Workforce management
4. Agras T16
High efficiency
24.7 acres in an hour
Note: Agras equipment does not include flight batteries and flight battery charger. You must purchase them independently.
[1] Data obtained from tests performed with the T16, the final result will depend on the operating environment and configuration.
[2] Obtained with a transmission range of 3 km (CE/SRRC) or 5 km (FCC) and at a flight altitude of 2.5 m. Please always respect local regulations and always maintain the line of sight with the product.
[3] Tested with a Phantom 4 RTK at 150 m.
[4] Test results may differ from actual load cycles depending on user customs and daily maintenance.