LIDAR IN SOLID STATE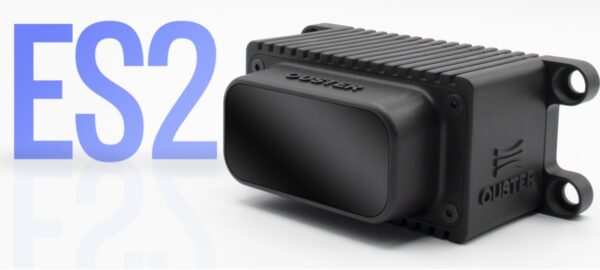 Two chips + two lenses = zero moving parts
The ES2 is the world's first long-range, high-resolution solid-state digital lidar. The combination of a VCSEL laser chip and a SPAD detector array raises the bar for resolution, range and reliability. This is a sensor designed for those who want to reimagine what lidar can be: simple.
A proven digital architecture
The ES2 shares 86% of its components with Ouster's OS series sensors, reducing manufacturing and technical risk on the way to series production.
ES2 sensor
Optical module
OS1 sensor
Solid state digital lidar
Aiming for a range of over 200 meters at 10% reflectivity, ASIL-B certification, and a 100,000 hour operating life. All without moving parts.
Designed for series production
Since our founding, we have designed our LIDAR technology with a solid state architecture in mind. We are now realizing our original vision, and the first ES2 samples are expected in 2022.
Built for secure autonomous systems
ADAS
Easy to integrate, with an expected range of more than 200 meters to support advanced driver assistance systems at highway speeds.
Robotic automation
Compact and easy to integrate into smaller robotic systems that need long-range vision.
Heavy industry
Strong and durable with the highest standards of impact, vibration and water ingress.